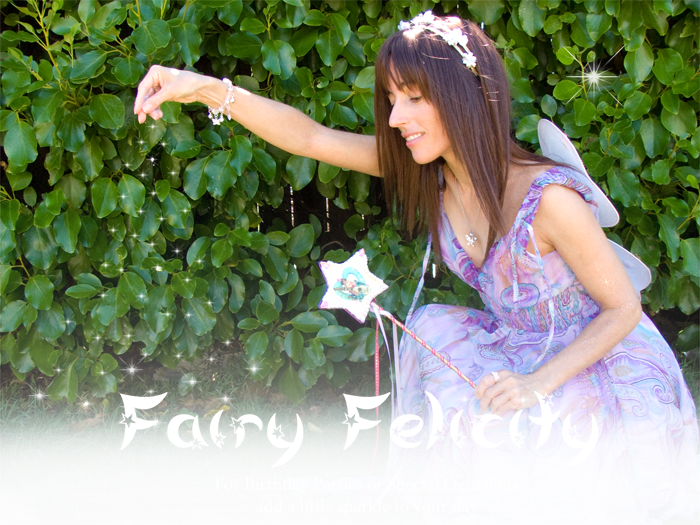 **DEAR FAIRY FRIENDS...
DUE TO UNEXPECTED CIRCUMSTANCES FAIRY FELICITY
IS REGRETTABLY UNABLE TO TAKE ANY PARTY BOOKINGS
UNTIL FURTHER NOTICE.
SHE HOPES TO RETURN SOON!**
"Thinking of you all, Love and Sparkles
from Fairy Felicity"
Tips for the day!
Dressing up is optional but encouraged. Some of the best fun is had in becoming another character and children often come up with the best costumes on their own.
A colourful teatowel and ribbons can become a fantastic fairy cape, and a few flowers from the garden pinned in the hair can equal a fairy crown!

In my experience it is best to wait till after the fun and fairy games to have the birthday food and cake, but little snacks on hand are great to keep them going.
Each party is unique and if you wish to incorporate the cake ceremony into the end of the hour Fairy Felicity will happily sing along.

Some children can be overwhelmed at a big party!
Fairy Felicity gets nervous sometimes too (the giant toads at the bottom of the garden can be very intimidating) so a few special fairy books will be on hand for those who need a quiet moment.
Usually, after awhile, nerves are forgotten and the magic of the hour takes over; joining in becomes fun!

Planning a Birthday Party or special day can be somewhat daunting and even the best laid plans can change on the day!
Fairy Felicity believes the most important part of the day is to relax and have fun as much as you can.
Ask for help from friends or family if you need it, and on the day, don't forget; Grown Ups can join in the Fairy Fun too!

And finally...

Fairy Felicity wishes you and your little one a wonderful special day and looks forward to meeting you!

Embrace your inner fairy and let the fun begin!!

&copy 2021 Fairy Felicity. All Rights Reserved