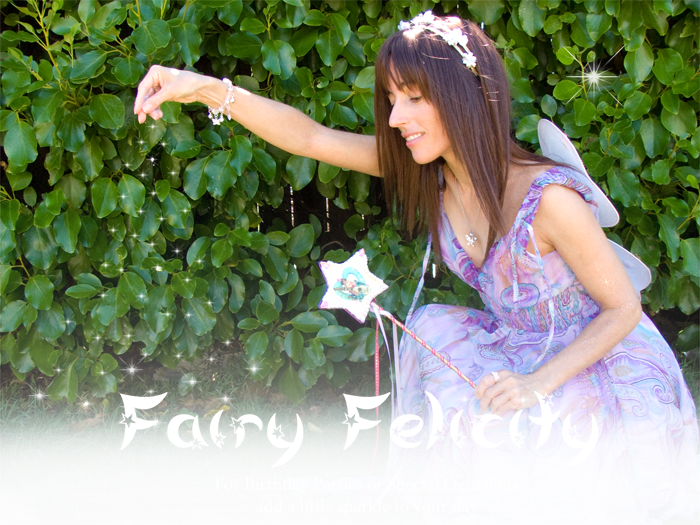 **DEAR FAIRY FRIENDS...
DUE TO UNEXPECTED CIRCUMSTANCES FAIRY FELICITY
IS REGRETTABLY UNABLE TO TAKE ANY PARTY BOOKINGS
UNTIL FURTHER NOTICE.
SHE HOPES TO RETURN SOON!**
"Thinking of you all, Love and Sparkles
from Fairy Felicity"
What You'll Need
Fairies like to skip and dance so whether holding your party outside or indoors, enough space to twirl around in would be fantastic. (It's a good idea to make sure any extra fragile items are out of "Knocking over distance" by any overenthusiastic twirlers!)

Fairy Felicity will bring her own CD player (and extension cord if the party is outside... yes, amazingly they have them in fairy land too), all she needs is a power point to make it work it's magic.

A large table is perfect for the craft activity. Depending on location, Fairy Felicity can set up the craft station before meeting the children (which can make for a nice surprise) or during the hour. Plastic protective tablecloths will be provided if required along with all the craft supplies.

&copy 2021 Fairy Felicity. All Rights Reserved